Optoma HD 141 Xe (następca HD 131 Xe) - Projektor Full HD - Salon Poznań
1351
HD141X
OPTOMA
Projektor Full HD 1080p z DLP
technologia wyświetlania: DLP
natywna rozdzielczość: HD (1920 x 1080)
maksymalna rozdzielczość: 1080p
jasność: 3000 ANSI Lumenów
kontrast: 23 000:1
wyświetlane kolory: 1,07 miliarda
typ lamp/żywotność lamp: 6000/5000h (tryb ECO/jasny)
korekcja zniekształceń trapezowych: ±40° w pionie
jednolitość: 80%
format obrazu: 16:9 (natywny), 4:3 (zgodny)
odległość: 1,06 - 7,67m
obiektyw: F/2,5~2,67; f=21,9~24mm, 1.1x zoom manualny
audio: 10W
poziomu szumu: 26dB
W pełni funkcjonalny pilot zdalnego sterowania z wyborem źródła i podświetleniem
pobór mocy: maks. 233W (normalny), min. 193W (Eco), <0.5W tryb czuwania
wejścia: 2x HDMI (obsługa 1.4a 3D) + MHL, Audio Out 3,5mm, 12V Trigger, 3D-Sync, USB (serwisowe)
zabezpieczenia: Security Bar, Kensington Lock, zabezpieczenie hasłem
Szczegółowy opis producenta:


Super-sized home entertainment

Bright vivid colours – 3000 ANSI Lumens
Full HD 1080p image quality
Dynamic black technology - 23,000:1 contrast ratio
Easy connectivity - 2x HDMI and MHL support and built-in 10W speaker
Super-sized home entertainment

Created for super-sized 1080p home entertainment, the bright HD141X is perfect for watching TV shows, sports and movies or playing action-packed games on a huge screen.
With a built-in speaker and two HDMI inputs the HD141X is easy to setup and use. Turn it into a smart projector by connecting your smartphone or tablet using MHL; now you can play games, stream videos and share photos on the big screen.
Full HD

Sharper more detailed projection with 1920 x 1080p pixels, perfect for watching Blu-ray movies without downscaling or compression.

 
Full 3D

Using the inherent speed of DLP technology, The Optoma HD26 Full 3D projector can display true 3D content form almost any 3D display device, including 3D Blu-ray, PS3, Xbox and Sky3D.

 
Gaming Mode

Designed to provide the best gaming experience you can enjoy lightning response times, high contrast and vivid colours on a large screen using Gaming mode. Perfect for all games including racing and first person shooters.

 
MHL Connectivity
Incorporating MHL technology you can easily connect to your MHL enabled mobile device with a single cable solution. This will turn your HD141X into a smart projector allowing you to mirror your devices screen, access online content, apps, movies, games and photos stored on your mobile device. You will even be able to control your device with the remote.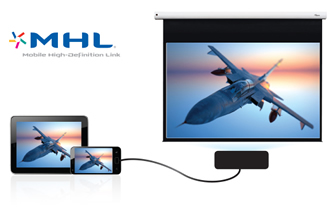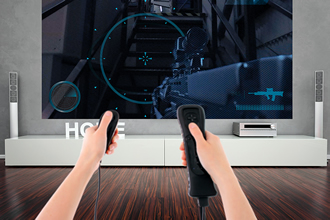 isplay Technology

DLP

Native Resolution

1080p 1920 x 1080

Brightness1 (Bright Mode)

3000 ANSI Lumens

Contrast

23,000:1

Noise Level (Eco mode)

26dB

Weight (kg)

2.45

I/O Connectors

2 x HDMI (1.4a 3D support) + MHL, Audio Out 3.5mm, 12V Trigger, 3D-Sync, USB Service

Maximum Resolution

1080p

Computer Compatibility

UXGA, SXGA, WXGA, HD, XGA, SVGA, VGA, Mac

Video Compatibility

1080p, 1080i, 720p, 576i/p, 480i/p

Displayable Colours

1073.4 Million

Projection Lens

F/2.5~2.67; f=21.9~24mm, 1.1x Manual Zoom

Throw Ratio

1.48 - 1.62:1

Projection Screen Size

1.06 - 7.67m (41.8" - 300") Diagonal 16:9

Projection Distance

1.5 - 10m

Zoom Type

1.1x Manual

Aspect Ratio

16:9 Native, 16:10/4:3 Compatible

Offset

116% ±5%

Horizontal Scan Rate

15.375~91.146 KHz

Vertical Scan Rate

24 ~ 85Hz (120Hz for 3D)

Lamp Type

190W

Lamp Life (Eco/Bright Mode)

6000/5000

Keystone Correction

± 40° Vertical

Audio

10W

Dimensions (W x D x H) (mm)

315 x 224 x 114

Remote Control

Full function remote with direct source selecting and backlight

Power Supply

Input: 110 - 220v

Power Consumption

233W BRIGHT mode < 0.5W Standby mode, 193W Eco mode < 0.5W Standby mode

Operating Conditions

5°C - 40°C, Max. Humidity 85%, Max. Altitude 3000m

Uniformity

80%

Security

Security Bar, Kensington Lock, Password Protection

Standard Accessories

AC Power Cord, Back-lit IR Remote Control with Batteries, Quick Start Card, CD User Manual, Warranty Card

Optional Accessories

Ceiling Mount, Screen

RoHS

Compliant

3D Support

The 3D features of Optoma projectors can only be used with compatible 3D content. Typical applications include use with 3D educational or 3D design and modelling systems. 3D TV broadcast systems, (SKY in the UK), Blu-ray 3D™ and 3D games from the Sony® PS3 or Microsoft® Xbox 360 are now supported as part of the HDMI v1.4a specification.

3D Viewing

Requires ZF2100 system - Sold separately
(Additional Glasses are also available)

3D Compatibility

Side-by-Side:1080i50 / 60, 720p50 / 60
Frame-pack: 1080p24, 720p50 / 60
Over-Under: 1080p24, 720p50 / 60

Speaker

10

On Screen Display

27 Languages: English, French, German, Spanish, Italian, Portuguese, Dutch, Swedish, Finnish, Greek, Danish, Norwegian, Polish, Russian, Simplified_Chinese, Traditional_Chinese, Korean, Arabic, Japanese, Thai, Hungarian, Czechoslovak, Turkish, Vietnamese, Farsi, Romanian, Indonesian

Optional Wireless

Yes

Features

Full 3D 1080p Support, Dynamic Black
Kolor:
czarny